LGBTQ+ Pride Month, Lets Talk Queer Books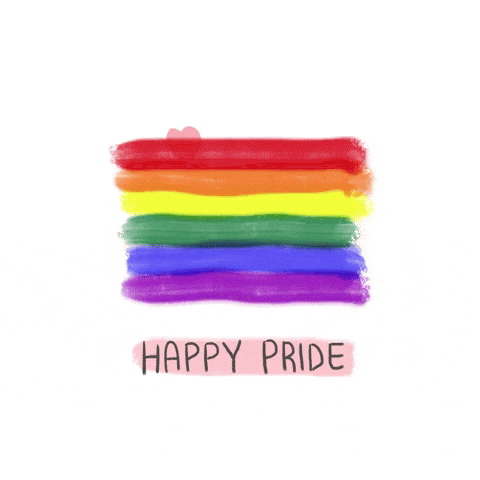 What is love? There are several definitions for this word. Is it an intense feeling of deep affection or maybe a great interest and pleasure in something? Aren't both of those definitions the same exact thing? Let me help you out here, they are. There are also a vast number of synonyms for the word love, such as: fondness, warmth, intimacy, endearment, affection, friendship, respect, devotion, and passion to name some. Wouldn't you say at some point in your existence you have experienced one of the many feeling associated with love? Whether it was that time you tried ice-cream for the first time, had a feeling for the book you found absolutely stunning, discovered a person who captivated your heart, or maybe just that unconditional love you had for a family member. It would be impossible to say, in some capacity, that you haven't experienced love.
This is where I lead you into a different topic, albeit the same subject. If we all are capable of having an experience with love, then shouldn't we all be allowed to love who and what we want? Mind you, I have some stipulation for that last statement. Obviously, somethings are just outright ridiculous to love, like soft boiled fetal duck, look it up if you dare. I apologize to those who may actually love this delicacy, it's just beyond my capability of understanding. Keep in mind I am a vegetarian. Even s
o, hey if that's what you love, I say go for it. My previous statement of its ridiculous nature was purely comedic, and I have never been one to stop someone from loving. Unless, it is something that truly harms someone. In which case, that's not love. Now, what is my point? I am a lesbian; I am a girl in love with a girl. We have been together for over three years now and love each other beyond words or measures. Yet, there are people on this planet who would prefer if our love was illegal and they frown down upon our glaadness. Why is beyond me. That topic is for another time and honestly, I could probably never give you a just or coherent answer. So, we shall move on to what I wanted to talk about today, and that is love. Repeat after me, love is love. LOVE IS LOVE!
As most of you may know, June is LGBTQ pride month. It's a time to celebrate being queer or loving those in your life that are. It's a time to be supportive and understanding. It's a time when a billion companies throw rainbow flags onto everything. HAHA kidding, but no really you know it's the truth. Hey, it doesn't make me mad, I am glad to see rainbow everything. I truly hope that these same companies fully support us and protect our rights. If you are one of those companies, I am talking to you. I will give you the benefit of the doubt, because I am trusting. Down to the nitty gritty. This month was created to celebrate and honor the 1969 Stonewall riots in NYC, this year commemorates the 50th anniversary. If you do not know what the Stonewall riots were, then look it up please. I will give you a small understanding and the other details are for you to discover. June of 1969, patrons and supporters of the Stonewall Inn put forth an uprising that continues up until today. They forged the way for the outlawing of discriminatory laws and practices against LGBTQ Americans. It was a pivotal event in gay history and is why we celebrate this month as our own. (Hence why three white males asking for a permit to celebrate 'straight pride' is completely idiotic and witless, don't get me started.) I digress.
Being that it is LGBTQ Pride month, I felt it was my duty and of interest to me to read only LGBTQ- themed literature this month. And I did just that. I read several types of LGBTQ-themed books from a multitude of genres. Also, I wanted to include some that I have read in the past which I felt needed to be on this list. For the sake of being non-spoiler-y I will not be giving plentiful detail into the plots of these pieces. What I will be doing is telling you essentially what they are about and what feelings they gave me. A post about love should have that right? Now sit back and get ready for all things gay from someone who is extremely gay and not afraid to say it. Hey babe, I love you.
I was sent two books from publishers for this month, thanks to publicist Megan Beatie (check out her website here ). Thanks again for these amazing reads!
The first of these was "Something Like Gravity" by Amber Smith, which was a brilliant piece of lgbtq writing. This book centers around the relationship between a transgender boy, Chris, and a girl named Maia. That sounds complex and compelling enough, but there is more. These two are brought together in the most unusual way, when Chris nearly runs Maia over with his car. I will be as vague as possible in order to keep this spoiler free. The major factor in this novel is the love story and mixed in is these two characters stories of tragedy. Both are healing from traumatic events that occurred to them; thus, both are inevitably flawed. Flawed in a beautiful way. What human being is not? You will swoon, you will certainly feel sadness, and you will feel empowered. Smith's words are poetic and evoke a tremendous amount of emotions. The only critique I have, would be the request for more details into Chris being transgender. It's certainly there, but often times I was left wondering how Chris truly identified. Regardless, I am just fulfilled with the fact there is a transgender representation and simply want more.
The next book I was sent was "The Athena Protocol" by Shamim Sarif. I went blindly into this book; I knew little to nothing of what to expect. I was met with a surprise. This story was jam packed with strong female characters, so if you are looking for some female empowerment, here you go. The main protagonist is a lesbian spy by the name of Jessie Archer. Even the plot is one to make a feminist like me get weak in the knees. These operatives that Jessie works with are called Athena and they are responsible for vigilante services to help women and children who have been trafficked. In regard to the lesbian representation in the book, I think it was done well. It wasn't overbearing or ridiculous. Let's be honest, a lot of cinema and books make lesbians look and act a certain way that seems to be more for men's pleasure than a woman's actual sentiment. Mind you, there wasn't too much about her sexuality in the book and I am sure it is due to this being a young adult novel. Either way, what was in there was perfectly done and gave us a realistic lesbian character to relate to. Mostly, this was about the comradery of this vigilante group and the stakes they are willing to take to save innocent women and children. It really is an inspiring piece of work.
The next few books are ones I bought myself and read either this month or years prior.
"Lies We Tell Ourselves" by Robin Talley-
I found this book on a book buying spree, which I was adamant on purchasing some lgbtqi+ books. I naturally browsed the section put up for pride month and this was the second book I picked up. As soon as I read, "in 1959 Virginia, the lives of two girls on opposite sides of the battle for civil rights will be changed forever," I knew this was the one. The main character is Sarah Dunbar, an honor student who also happens to be one of the first black students to attend an all-white school. Linda is thrown into the mix, a white girl who is the daughter of someone who is very vocal about his thoughts on not integrating the schools. Her entire thought process is confusing and quite honestly gave me a headache, which actually is a great thing. Why? Because it made her human. No, I did not agree with her belief system or how she processed equality. However, I did like how she grew by the end of the book. She was plagued with her own feelings competing with how she was brought up. Sarah did not want another race to be treated poorly or without dignity, but she also was told that segregation was how it was supposed to be. Mind you, this is something our society has battled with for many years. We are often blind to the truth, and in a way, we are brainwashed into believing something is the absolute truth. To be able to break out of that belief on your own is absolutely worth something to be proud of. That is why I found Sarah to be an extraordinary character. Without spoiling anything, these two do end up having feelings for one another. I found their love story to be beautiful. Some may have felt the relationship was lacking, due to their inability to relate to one another. I think the reason I was accepting of it, is because I can see them growing together. Sometimes we grow feelings for a person, with no reason. Then inevitably that reason becomes clear later on in the friendship or relationship. I felt they had a natural chemistry that was being blocked by both of their given environments. Yet, I could see Linda attempting to change her perspective and that is worth something. Regardless, whether or not their love is something that is explainable or understandable, this story was an eye-opener. Even with my knowledge of African American history and my experience with being in an interracial lesbian relationship, this story gave me something to think about. That alone is impressive.
"Bleeding Earth" by Kaitlin Ward-
This was a cover buy book, one that I found randomly and had no idea it was lgbtqi+. I was drawn in by the stunning cover, in a fitting color of crimson red. I am a huge fan of apocalyptic books, especially ones that revolve around Mother Nature and natural disasters. Kaitlin did a great job at building this terrifying world, where a young lesbian girl is met with a fight for survival. I have one warning, and that is that this book has massive amounts of GORE. If you are squeamish, just be careful. You have been warned. There were absolutely moments where I found myself feeling nauseous from the details, and I would say that is a win for Ward. I think it is obvious when you read the synopsis that blatantly tells you that this book is based around the earth bleeding. Our main character, Lea, is put in some very uncomfortable situations that leave her with making hard choices in order to survive. Her story has so much originality and thought-provoking ideas. I felt so much for this character and those involved in her world. Out of all of these books, this was the one that surprised me the most. It needs more hype and more of you should pick it up. The representation was extraordinary, the plot was original, the characters were believable, and the connection was brilliant. It's a horror with a lesbian female character, who ends up facing many obstacles that definitely delve into mental illness and particularly ptsd and paranoia. If you don't want to sleep tonight, go pick it up now.
"the Inexplicable Logic of My Life" by Benjamin Alire Saenz-
As far as contemporaries go, this one is now on my top ten list. It's centered around a family that consists of a boy whose mother has died, and he has been adopted by a gay man. The family in this book are perfection. Sal and Vincente have such a natural relationship, a loving one with a lot of respect. Not once does Sal question Vincente's validity of fatherhood. He is his father and that is the truth. This man has raised him and done a fine job of doing that. Sal has his issues and like any other teenage boy had his complexities that make difficulties arise in both of their lives. Yet, they always come together to solve any problems that may exist. The major point in this book was not only about family, but about death. It's something we all are faced with at some point in our life. There are tons of it in this piece, and it brings so much to the table. It gives you a look into what grief is like, especially within a family. How everyone handles it differently and some don't even handle it at all. Most of all, I adored the friendship between Sal and Sam. The fact that she was essentially a part of the family too made the stakes of their friendship even more important. I was rooting for them, even through their tiffs. Give it up for Saenz for writing a beautifully complex story about family and grief, all while adding so many layers and diversity.
"Girls of Storm and Shadow" by Natasha Ngan-
This wouldn't be a proper review if I didn't tell you that "Girls of Paper and Fire" was a game changer for me. It's the first ever fantasy-style book that I have felt connected too. Yes, I have enjoyed fantasy before, and it has given me quite a bit of entertainment. Yet, this was so much more than that. Ngan's writing style was so poetic and gave me the same feeling that an emotionally driven song gives me. In fact, her words were musical. They were calculated but somehow natural. The diversity was very well-done, and I did enjoy the look into Malaysian and Chinese culture that was blended into the plot. We have this fantastic lesbian character that just leaves you inspired. I just find her writing to be so graceful and artistic. Hence why the second book in this series is equally as impressive. For once, I was not worried about the middle child syndrome. You know it happens more often than not, that the second book in a series is paid less attention to and therefor ends up lacking the original luster of the first book. I knew this wouldn't be the case for this book and I was correct. I definitely don't want to scorn any of you and give away too much detail, because I know I would be upset if someone did that to me. I will be vague then. This book takes the best parts of the first and delves deeper into the issues at hand. There are up's and downs with the characters, as you would expect. The pacing is nicely done, just as it was in the first book. It keeps you from wanting to put the book down, which can be difficult if you need sleep. Last of all, it feels like you are taking this journey with Lei and our other characters. That in itself is something I always look for in books, and I have found it in Natasha Ngan's magical series.
Now onto my honorable mentions, because these were some that I read some time ago. I felt they should be mentioned briefly, even though I did not read them this month. It just wouldn't be right to exclude them from the pride party. "Simon vs. the Homo Sapiens Agenda" by Becky Albertalli (4.5 Stars), "More Happy Than Not" by Adam Silvera (4 Stars), "Odd One Out" by Nic Stone (5 Stars), "Of Fire and Stars" by Audrey Coulthurst (5 Stars), and "Darius the Great Is Not Okay" by Adib Khorram (5 Stars). These are all worth spending some lunch money on, skip the burger and buy some books guys! Those of you who live in Los Angeles know that you can buy a book for less than or equal to the value of a burger. Mind you, mine is always a veggie burger, don't get me started on how unfair it is that my burger choice costs the same as one that is made out of beef. Sometimes more. Someone get on that one stat. While you're at it, read some great gay books. I've given you plenty of options, so now you have no excuse. You're welcome.
Please reload